Ever since the launch of BlockWallet, hardware wallet support has been the missing piece and our top priority. We've completed tons of testing for the past few months to deliver a flawless release, testing internally with our team, then transitioning to a beta program with our community. The result is a battle-tested integration that we're so excited for you to experience. It's time to make the switch!
Currently we support Ledger and Trezor hardware wallets and plan to integrate Keystone in the near future.
How to connect your hardware device
If you do not have a hardware wallet currently, feel free to refer to our HelpDesk articles on how to get a Ledger or Trezor. We also have a short article on how hardware wallets work.
Follow the steps to connect your hardware wallet with BlockWallet.
Select the wallet icon on the top left-hand corner of your wallet.
Select "Create Account".
Select "Connect Hardware Wallet"
Select either "Ledger" or "Trezor" depending on your hardware device and press "Continue".
Make sure you follow the steps below and press "Continue".
A common mistake we find users are making is NOT opening up the Ethereum App, so please make sure you do this to avoid any errors!
Select the Ledger or Trezor device you have connected to your device and press "Connect".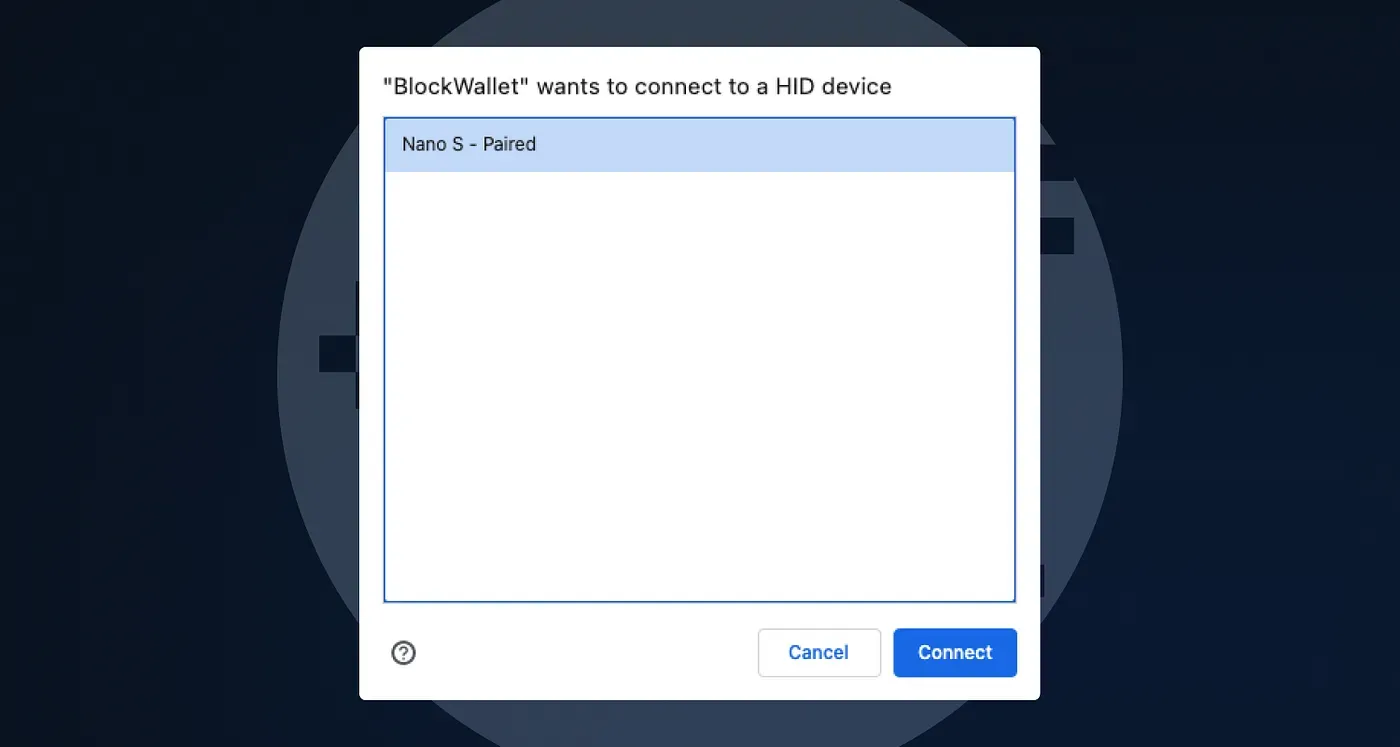 Select the wallet address you would like to import and press "Import".
If you are wondering about the "Advanced Settings" option, refer to this HelpDesk article.
You should see the following image when you've imported your wallet address(es) to BlockWallet.
To double-check that you've imported correct wallet address(es), select the wallet icon on the top left-hand corner.
Depending if you are connected to Ledger or Trezor, you will see a label indicating the type of hardware wallet. Here's an example of what a Ledger hardware wallet will look like.
Now for the fun part! Here's what your wallet will look like when making transactions.
While BlockWallet is waiting for you to confirm your transaction on your hardware device, there will be a countdown timer that automatically rejects your transaction if you do not confirm in time. There is also an option to "Reject transaction now".
Congratulations! Now you're all set to use your hardware wallet with BlockWallet to securely navigate Web3.
If you have any questions regarding any of the steps above or about hardware wallet support in general, feel free to reach out to us on Telegram.