A Trusted Taho (Tally Ho) Alternative
BlockWallet is a Taho alternative for Web3 users who want a more robust and decentralized wallet in a familiar and friendly package.
Spot the Difference
Picking a Web3 wallet can be tough, but don't worry, we've got you covered. Here's some food for thought.
Break Free From Taho's Limitations
Embrace a wallet that truly understands the vast potential of Web3, offering you the opportunity to engage with new chains and lesser-known networks. BlockWallet achieves this through its custom EVM network support, letting you add networks beyond the default selection. With this feature, you gain the flexibility to explore every nook and cranny of the Web3 ecosystem. BlockWallet's Quick Network Finder can search the network you'd like to add and add it with a single click, eliminating the need for confusing details like Chain IDs and RPC URLs. In contrast, Taho only offers 7 default networks, limiting your choices and restricting your options. So, for all the adventurous explorers out there eager to dive deep into the world of Web3, why not use BlockWallet?
Built-In Bridges
As the number of chains and networks continues to grow, having a wallet with built-in token bridges is a game-changer. It's all about efficiency and convenience. Sure, you could hunt for a dependable bridge on your own, but wouldn't it be nicer to have it all in one place? BlockWallet gets it, offering you built-in bridges right inside the wallet. Plus, it scouts the best market quotes, ensuring you get the lowest prices as well. With Taho, you're left to search for bridge protocols on your own – quite the hassle, right?
BlockWallet has a strict no-tracking policy and includes features like privacy proxies to protect your IP address and other personal data from node providers. In contrast, while Metamask claims not to store wallet account address information for read requests, they do collect both wallet and IP address information for write requests, such as making a transaction. They also retain this data for seven days but delete it after.
Export Keys, Explore Freely
Imagine a wallet that offers you flexibility and control over your assets. BlockWallet does just that by allowing you to export your seed phrases and private keys whenever you want. Now think about Taho, which gives you access to your seed phrase only during onboarding, then locks it away after. The beauty of crypto lies in its flexibility. You control your assets - which means you're allowed to move between wallets if you'd like or import your seed phrase to a mobile device. BlockWallet gets it, and we're here to provide that freedom. So, consider leaving limits behind and use BlockWallet for flexibility and control.
BlockWallet Doesn't Collect Personal Information
Discover the world of BlockWallet, a place where privacy truly matters. Unlike Taho, which has a habit of collecting user data, BlockWallet offers a refreshing alternative. A zero-tracking policy with features like privacy proxies, which stop third-party providers from snooping around as well. Each BlockWallet transaction is protected by this feature, removing sensitive data such as IP addresses and device locations.
A Difference in Reliability
In the world of crypto, reliability is king. But when a wallet like Taho relies solely on a single node provider, it leaves you vulnerable. If it faces a hiccup, Taho wallet grinds to a halt. BlockWallet, on the other hand, understands the importance of uninterrupted transactions, offering a failover system to ensure smooth operations even when the primary node provider runs into issues. Why settle for a wallet that can't keep up when BlockWallet is built to weather any storm?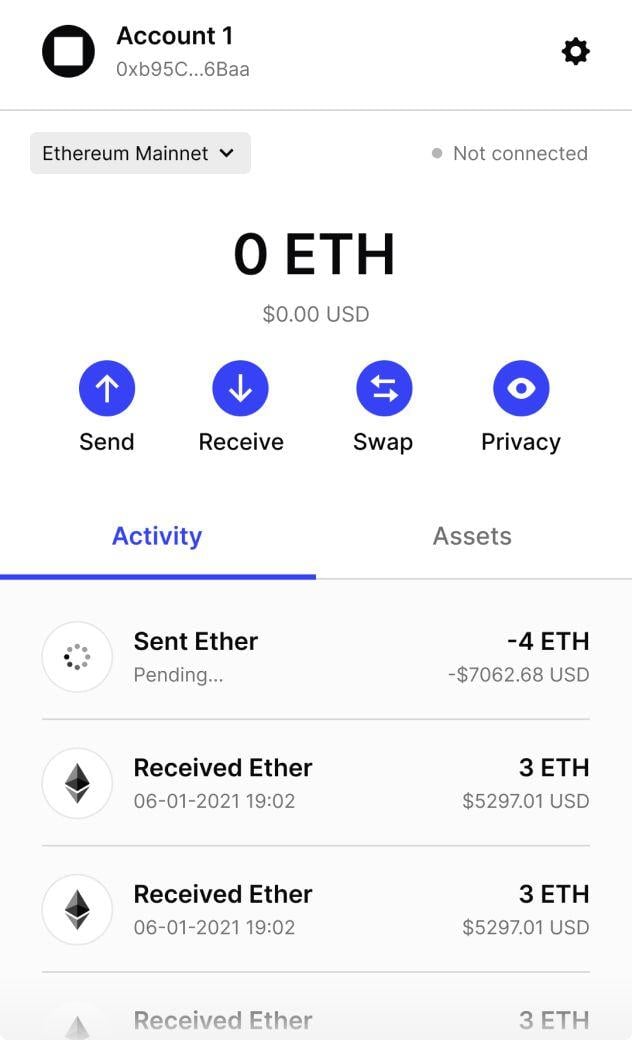 Quick-Import Your Account
Your assets live on a blockchain, which means that you can try BlockWallet and keep your current self-custodial wallet at the same time. You can simply import your keys or create a new account.
Compare BlockWallet & Taho
Still on the fence? Review key differences between BlockWallet and Taho.
Features
Automatic Token Detection
Custom EVM Network Support

Start on Solid Ground
High Performance
Public nodes are clogged and sluggish. BlockWallet nodes are exclusive, fast and carefully maintained for optimal performance and speed, only available to BlockWallet users.
Identity Protection
Node providers receive your IP and other personal data. BlockWallet protects your identity by intercepting requests, removing sensitive details, and relaying only necessary data for transactions.
Pure Reliability
When node providers stop working, so do the wallets that use them. BlockWallet quickly switches to a backup node provider if the primary stops working, so your transactions.
Frequently Asked Questions
Taho is the new name for the wallet that was formerly known as Tally Ho. But even with a new name, the project's core values remain the same. Taho is a free, community-owned wallet, which is also open-source, which means their code is available to the public. This has several benefits, one of which is allowing the general public to review and identify any errors that could potentially harm Taho users.
Is BlockWallet an open-source product?
Yes, the general public has complete access to view BlockWallet's codebase. BlockWallet is publicly audited by top-level companies and also has a bug bounty in place to reward programmers who find malicious bugs within BlockWallet's infrastructure.
How to switch from Taho (Tally Ho) to BlockWallet?
To get started with BlockWallet, you must first download the BlockWallet extension from the Chrome Web Store. Once that is completed, you'll be directed to an onboarding page where you have the option to create a new BlockWallet account by importing your existing wallet seed phrase or creating a new one. After your account is created, you're ready to experience everything BlockWallet has to offer.