A Reliable Trust Wallet Alternative
BlockWallet is a Trust Wallet alternative for Web3 users who want a more robust and decentralized wallet in a familiar and friendly package.
Spot the Difference With Our Trust Wallet Web3 Wallet Alternative
Picking a Web3 wallet can be tough, but don't worry, we've got you covered. Here's some food for thought.
New Networks in a Couple of Clicks
Navigating the ever-growing world of crypto can be exciting, but adding new networks shouldn't be a chore. Trust Wallet users, however, might find themselves frustrated with the annoying task of searching for Chain IDs and RPC URLs. In contrast, BlockWallet, a Trust Wallet alternative, has a solution that simplifies the entire process to a few clicks – Quick Network Finder. All you need to do is search for the network you want to add and add it – no more tedious hunting for details.
Protect Your Crypto With Hardware Wallet Support
When it comes to crypto, security is a top priority. Trust Wallet, however, misses the mark by not offering hardware wallet support, exposing its users to a much greater chance of being hit with potential scams. Enter BlockWallet – a wallet that's got your back with support for Ledger, Trezor, and Keystone devices. By integrating with these hardware wallets, BlockWallet elevates your crypto security to the next level, making it one of the easiest and most secure ways to hold your assets.
BlockWallet has a strict no-tracking policy and includes features like privacy proxies to protect your IP address and other personal data from node providers. In contrast, while Metamask claims not to store wallet account address information for read requests, they do collect both wallet and IP address information for write requests, such as making a transaction. They also retain this data for seven days but delete it after.
A Different Level of Privacy & Security
BlockWallet's dedication to privacy and security is clear. Unlike Trust Wallet, BlockWallet, a Trust Wallet alternative, does not collect any user data. Zero tracking. We even take it a step further with privacy proxies, which protect your data from third-party providers. BlockWallet has also been publicly audited by top-level firms and goes the extra mile in the security department by offering allowance revoke, a crucial feature that helps prevent users from having their assets drained from compromised DApps.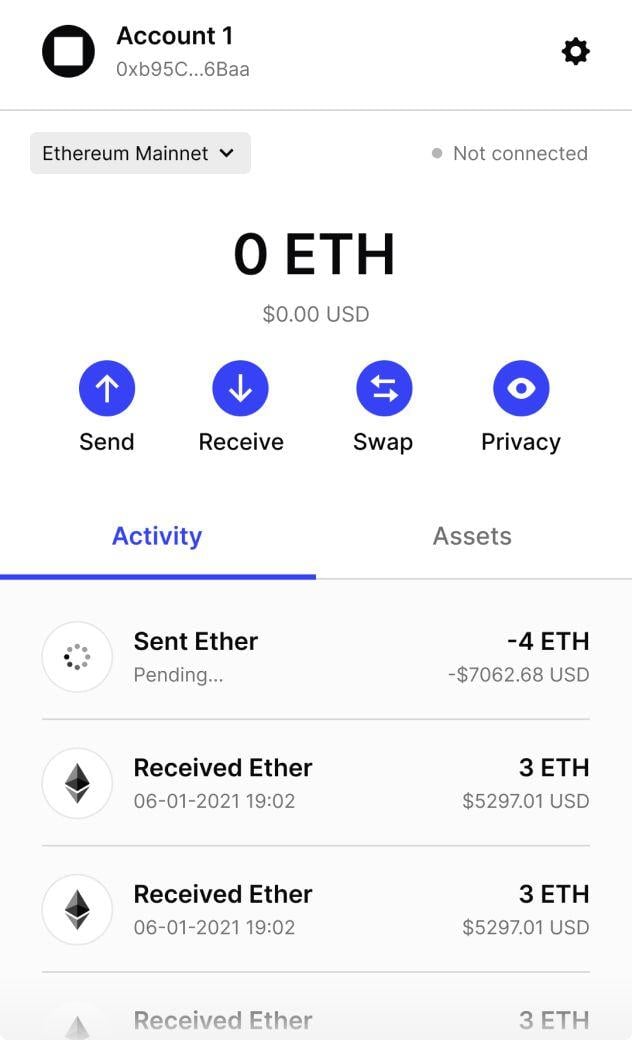 Quick-Import Your Account to a Trust Wallet Alternative BlockWallet
Your assets live on a blockchain, which means that you can try BlockWallet and keep your current self-custodial wallet at the same time. You can simply import your keys or create a new account.
Compare BlockWallet & Trust Wallet
Still on the fence? Review key differences between BlockWallet and Trust Wallet.
Features
Automatic Token Detection
Custom EVM Network Support

Start on Solid Ground with BlockWallet - a Trust Wallet Alternative
High Performance
Public nodes are clogged and sluggish. BlockWallet nodes are exclusive, fast and carefully maintained for optimal performance and speed, only available to BlockWallet users.
Identity Protection
Node providers receive your IP and other personal data. BlockWallet protects your identity by intercepting requests, removing sensitive details, and relaying only necessary data for transactions.
Pure Reliability
When node providers stop working, so do the wallets that use them. BlockWallet quickly switches to a backup node provider if the primary stops working, so your transactions.
Frequently Asked Questions
A bridge is a tool or service that allows users to move assets between different blockchain networks. For example, a bridge might allow users to transfer assets from Ethereum to other blockchains like Avalanche or Arbitrum. Bridges are available on third-party protocols, but with so many out there, it's hard to know which one is giving the best price. By using the built-in bridges feature on BlockWallet, users will automatically get the most affordable quotes on the market.
Does BlockWallet have hardware wallet support?
Yes, BlockWallet cryptocurrency wallet supports hardware wallets such as Ledger and Trezor, which allows users to securely store their crypto assets offline, providing an additional layer of security for user assets. BlockWallet also supports Keystone, a hardware wallet that implements the use of QR code technology to boost the security of their product. The QR code allows for the verification of all data transmissions, ensuring that the information entering the wallet is free of trojans or viruses and that sensitive information such as private keys is not leaked. Unlike USB or Bluetooth, QR codes can be easily verified by any QR code scanner, as the data contents are converted into a human-readable format, providing assurance and transparency. This dedication to security and offering tools that boost user security is why BlockWallet is one of the best Trust Wallet alternatives.
Does BlockWallet have a mobile wallet solution?
Yes, and no. No, because BlockWallet is a crypto wallet that does not have a mobile application, and yes because you can simply import your seed phrase or private key on any mobile device, or mobile wallet to access your digital assets on their mobile devices.
What networks is BlockWallet compatible with?
In addition to being an Ethereum wallet, BlockWallet is a multi-currency wallet that is also compatible with all EVM-compatible networks such as Polygon, BNB Chain, Arbitrum, Avalanche, Optimism, Fantom, Gnosis, and Rootstock. These are just the default, though. To add more networks to your BlockWallet account, head over to the Networks page and use Quick Network Finder, a feature that helps you add networks in just a few clicks. Just search for the network you would like to add and add it. Simple.
A gas fee is the amount of cryptocurrency that is required to pay to the network as a fee for executing a smart contract or making a transaction on a blockchain network when using a blockchain wallet. The gas fee is paid in the network's native token and is used to compensate the network's validators for the computational resources they expend to process the transaction. All users should ensure they have the appropriate gas fees available on their digital wallet before executing a transaction.